4 Hour Online Course
$65.00 Covers cost for all the materials, course access and certificate of completion.
Enroll Now
Our Ohio Abbreviated Adult Online Course Is:
BMV approved 4-hour online course required if you fail your road test

Start and Stop anytime! 

Fun, interactive – 100% online engaging curriculum

Flexible for any schedule – self-paced learning

Available anytime, anywhere – 90-day limit to complete course

Your Certificate of Completion will be conveniently sent to you by email
What is Ohio Abbreviated Adult Online Course?
This course is for those drivers of age 18+ who failed their first attempt at maneuverability or road portion of the driving test. These drivers are required to complete a 4-hour classroom or online adult driver education course.
A certificate of completion is only issued to those completing the course with a passing grade of 75% or better.
IMPORTANT: This fulfills the classroom requirement only. You still need to complete 24 hours of driving with another licensed adult or 4 hours with an Abbreviated Adult certified instructor.
What will I learn in the Ohio Abbreviated Adult Online Course?
The Ohio Abbreviated Adult Online Course covers: Basic Control Tasks, Traffic Control Devices and Laws, Perception and Driving Strategies, Operating in Adverse Conditions, Driver Fitness and Responsibilities of Owning and Maintaining a Vehicle
What are the requirements to enroll in this Ohio Abbreviated Adult Online Course?
All students must be at least 18 years old and have failed their first road test. All students who fail their first road test are required to take an Abbreviated Adult course. Online students must have access to a desktop/laptop computer with internet access. Other than that, you may log in and log out as needed to complete the course. Our program will consist of reading content and videos that will provide you with additional knowledge to improve your driving skills for life.
How long is the Ohio Abbreviated Adult Online Course?
This Ohio state-approved course spans four hours in duration. The state mandates its completion within 90 days, allowing flexibility in pacing. You're not obligated to finish it in a single session; progress can be made at your preferred speed. It's crucial to log out when not actively engaged in the course
How do I get my certificate for the Ohio Abbreviated Adult Online Course?
Enroll and successfully complete our Ohio Abbreviated Adult Online course, a state-approved four-hour program. Upon completion, your certificate will be sent via email within 1-3 business days.
*This course approved by the Ohio Department of Public Safety / Bureau of Motor Vehicles.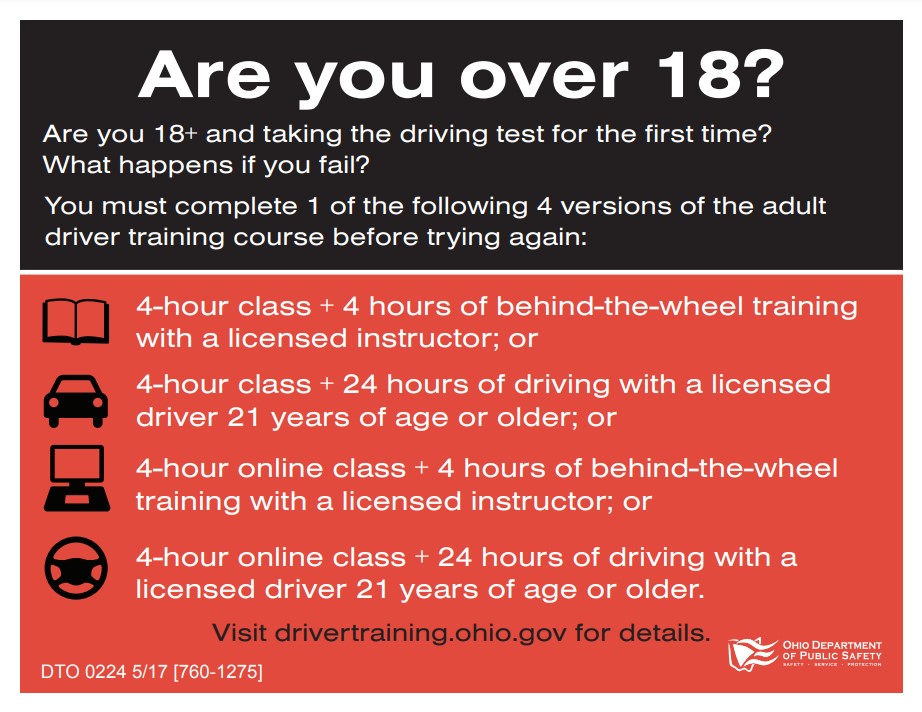 Ohio Abbreviated Adult Online Course